PROMOTE  HAIR GROWTH
The Knotless Kay Scalp Massaging Brush has a unique contoured shape that conforms to the palm of your hand, allowing your hand to naturally cup the brush. Thick bristles massage the scalp while stimulating hair follicles for healthy, shiny hair. The shape and style of the brush along with the bristles help to evenly distribute styling products.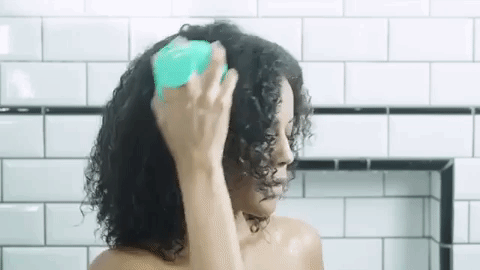 Key Benefits:
Boost hair growth, restores the vitality of your hair and improves the condition of your scalp.
Promotes healthy blood flow,so hair nutrients can properly reach the roots and make them healthy and moisturized.
East to grip handle, won't slip from your hands while in use and allows you to control the pressure you apply to the brush
Safe to use for all hiar typeswithout causing breakage.
Saves you money from spending on pricey hair spa and scalp massages.
How to Use:
Separate hair into 2 to 4 sections.
Take one section, wet the hair slightly then apply shampoo.
Smooth through with your fingers, then wrap your hand around the scalp massage brush handle.
Press against your scalp and gently move it around your scalp area.
Massage that section for 3 to 5 minutes then pim-up and repest process with other sections.